Water Conservation Overview
Normal Supply Year - Stage 1 Water Alert in Effect Fiscal Year 2021-2022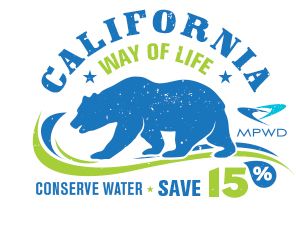 UPDATE: Following the second driest year on record and with near-record low storage in California's largest reservoirs, Governor Newsom issued a proclamation extending the July 2021 drought emergency statewide on January 5, 2022, further urging Californians to step up their water conservation efforts as the western United States faces a potential third dry year.
December storms brought more than 200% of normal precipitation to a large area of California and Nevada. In the Sierra Nevada, much of this fell as snow. Recent storms improved the drought, however much of the state is now in a dry holding pattern due to little or no precipitation or snowfall in January 2022 with that pattern expecting to continue through early March 2022.
MPWD is committed to bringing updated information to rate payers on drought conditions, water shortage levels, water conservation efforts and resources, and how it affects our District. Please visit this page for the latest updates throughout 2022.
The MPWD has provided its customers with safe, quality water with friendly, professional service for more than 90 years. We look forward to working together with our customers to ensure continued delivery of our most valuable resource for the next 90 years and beyond.
Please email us with any questions or requests you may have at info@midpeninsulawater.org.
---
Links:


Save Our Water. Click Here
A partnership between the Association of California Water Agencies and the California Department of Water Resources.
---


Bay Area Water Supply & Conservation Agency. Click Here
---


San Francisco Public Utilities. Click Here
For more information on SFPUC's 20 Sustainable Tips to Kick Off the New Decade, Click Here