Water Conservation Overview
Normal Supply Year - Stage 2 Water Alert in Effect Fiscal Year 2022-202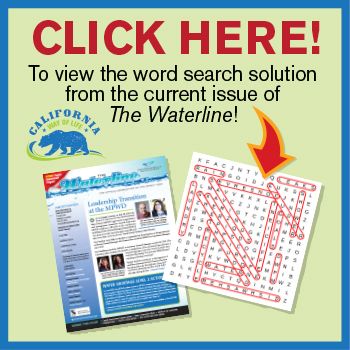 UPDATE: Effective June 10, 2022 the MPWD has moved to Water Shortage Level 2 as outlined in the Water Shortage Contingency Plan (WSCP) of 2020, which was passed and adopted on September 23, 2021 by Resolution 2021-23, and enacted by Ordinance No. 124, which was passed and adopted on June 23, 2022. The action was necessitated by the continuing drought conditions in the State of California and the issuance of an Executive Order by Governor Newsom on March 28, 2022 and subsequent State Water Resources Control Board (SWRCB) Emergency Regulation that directs local water agencies to enact shortage response actions consistent with Level 2 of their WSCP. Furthermore, it complies with the State Water Resources Control Board (SWRCB) Level 2 response to Section 10632 of the CA water code.
Level 2 response actions that are now effective are in addition to Level 1 response actions already in place. Level 2 response actions seek to further reduce outdoor water usage in an effort to reach the voluntary 15% water savings goal requested by the San Francisco Public Utilities Commission (SFPUC) and consistent with State law.
Level 2 Actions Now Apply
Fix leaks and faulty sprinklers within five (5) days.
Limit irrigation (specifically sprinkler and drip systems) to three (3) days per week:
Odd addresses – Monday/Wednesday/Friday

Even addresses – Tuesday/Thursday/Saturday
All addresses: No watering on Sundays

Covers required for pools and spas.
Irrigation of non-functional turf by public, commercial, and industrial entities is prohibited.
Filling or refilling of ornamental lakes or ponds is prohibited.
Level 1 Actions Still Apply
Decorative water features must recirculate or secure a waiver from the District.
Washing and hosing down of vehicles and hard surfaces is prohibited.
New landscape planting limited to drought tolerant plants.
No outdoor watering between the hours of 9 a.m. to 6 p.m.
The use of potable water for the irrigation of "non-functional turf" at large CII sites is prohibited.
Restaurants may only serve water upon request.
Lodging establishments must offer opt-out of linen service.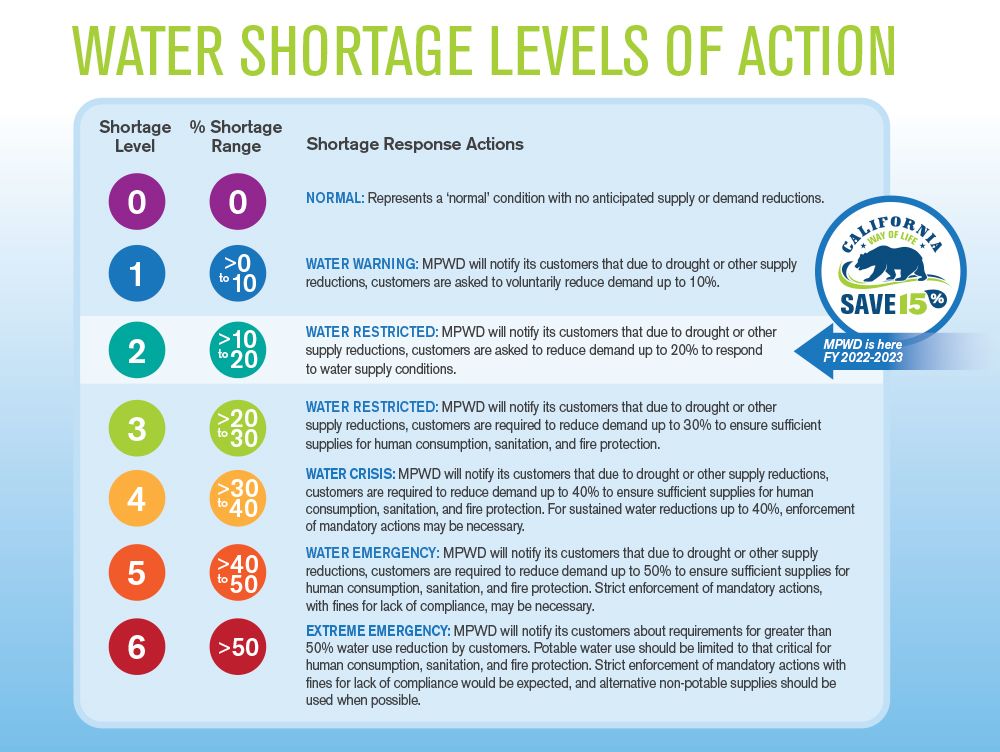 The MPWD continues to prioritize water conservation and water use efficiency throughout its service territory. MPWD customers have responded to the challenge by meeting and exceeding voluntary goals over the past year and by taking advantage of the many programs, rebates, tools, and other measures offered by the MPWD under the California Way of Life conservation campaign.
MPWD is committed to bringing updated information to rate payers on drought conditions, water shortage levels, water conservation efforts and resources, and how it affects our District. Please visit this page for the latest updates throughout 2022.
The MPWD has provided its customers with safe, quality water with friendly, professional service for more than 90 years. We look forward to working together with our customers to ensure continued delivery of our most valuable resource for the next 90 years and beyond.
Please email us with any questions or requests you may have at info@midpeninsulawater.org.
---
Links:


Save Our Water. Click Here
A partnership between the Association of California Water Agencies and the California Department of Water Resources.
---


Bay Area Water Supply & Conservation Agency. Click Here
---


San Francisco Public Utilities. Click Here
For more information on SFPUC's 20 Sustainable Tips to Kick Off the New Decade, Click Here