Water Quality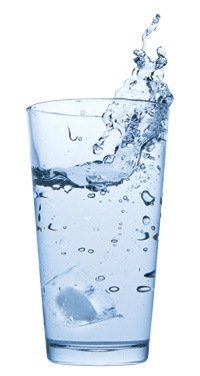 The SFPUC's Water Quality Division (WQD) regularly collects and tests water samples from reservoirs and designated sampling points throughout the system to ensure the water delivered to you meets or exceeds federal and state drinking water standards. In 2017, WQD staff conducted more than 55,273 drinking water tests in the transmission and distribution systems. This is in addition to the extensive treatment process control monitoring performed by the SFPUC's certified operators and online instruments.
Drinking water, including bottled water, may reasonably be expected to contain at least small amounts of some contaminants. The presence of contaminants does not necessarily indicate that water poses a health risk. In order to ensure that tap water is safe to drink, the USEPA and SWRCB-DDW prescribe regulations that limit the amount of certain contaminants in water provided by public water systems. The U.S. Food and Drug Administration regulations and California law also establish limits for contaminants in bottled water that provide the same protection for public health.
---
Drinking Water Sources and Treatment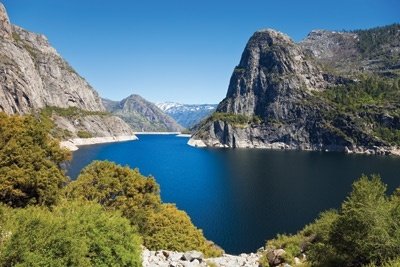 Supplied by the San Francisco Regional Water System (SFRWS), which is owned and operated by the San Francisco Public Utilities Commission (SFPUC), our major water source originates from spring snowmelt flowing down the Tuolumne River to storage in Hetch Hetchy Reservoir. The well protected Sierra water source is exempt from filtration requirements by the United States Environmental Protection Agency (USEPA) and State Water Resources Control Board's Division of Drinking Water (SWRCB-DDW). Water from the Hetch Hetchy reservoir receives the following treatments to meet appropriate drinking water standards: disinfection by ultraviolet light and chlorine, corrosion control by adjustment of the water pH value, fluoridation for dental health protection, and chloramination for maintaining disinfectant residual and minimizing disinfection byproduct formation.
Hetch Hetchy water is supplemented with surface water from two local watersheds. Rainfall and runoff from the 35,000-acre Alameda Watershed in Alameda and Santa Clara counties are collected in the Calaveras and San Antonio reservoirs, and delivered to the Sunol Valley Water Treatment Plant (SVWTP). Rainfall and runoff from the 23,000-acre Peninsula Watershed in San Mateo County are stored in the Crystal Springs, San Andreas and Pilarcitos reservoirs, and are delivered to the Harry Tracy Water Treatment Plant. In addition to these local sources, the SWRCB-DDW approved the SFPUC to use the surface water in Lake Eleanor, Lake Cherry and the associated creeks all conveyed via the Lower Cherry Aqueduct, Early Intake Reservoir and Tuolumne River (collectively known as Upcountry Non-Hetch Hetchy Sources, or UNHHS) as additional drinking water sources to the SFRWS. The UNHHS water, if used, will be treated at the SVWTP prior to service to customers. In 2016, the SFRWS did not use UNHHS. Water at the two local treatment plants is subject to filtration, disinfection, fluoridation, and pH adjustment for corrosion control optimization.
---
SFPUC's 2017 Water Quality Report

The San Francisco Public Utilities Commission's Annual Water Quality Report can be found here.
---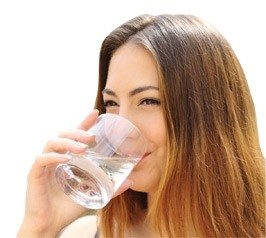 Special Health Needs
Some people may be more vulnerable to contaminants in drinking water than the general population. Immuno-compromised persons, such as those with cancer undergoing chemotherapy, persons who have undergone organ transplants, people with HIV/AIDS or other immune system disorders, some elderly people and infants, can be particularly at risk from infections.
These people should seek advice about drinking water from their health care providers. USEPA/CDC guidelines on appropriate means to lessen the risk of infection by Cryptosporidium and other microbial contaminants are available from the USEPA's Safe Drinking Water Hotline 800.426.4791 or at www.epa.gov/safewater.
---
Consumer Confidence Report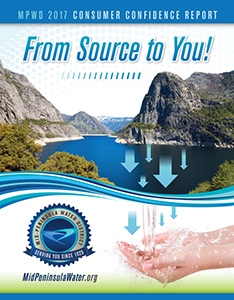 Water quality results are published annually in the MPWD Consumer Confidence Reports (CCRs). Click Here for the most current CCR (PDF) and here for a list of past CCRs.