Monitor Your Water Usage Online!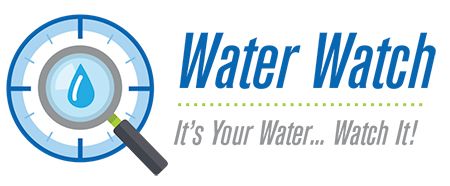 As of January, 2020, all water meters in the MPWD service area have been replaced with automated water meters (AMI meters). As a result, all MPWD Customers are now eligible to set up an online Water Watch account to monitor their water usage on a daily basis and set up text or email usage alerts. NOTE: The Water Watch is entirely separate from your online bill pay account and requires a different login.

SIGN IN to your *EXISTING* Water Watch account (formerly the Home Water Use Report).
SIGN UP for a *NEW* Water Watch account.
---
Guide to Setting Up a New Account
STEP 1: MPWD Customers can set up an account to monitor their water usage online by clicking here.
On the next screen, enter your email address and click Get Started. You will receive a confirmation email shortly.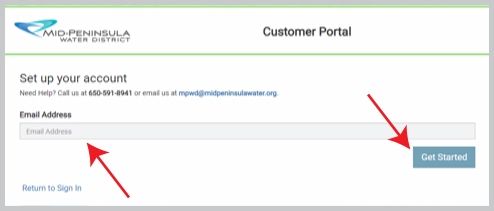 STEP 2: Open your email and click on the link provided.
This will confirm your email address and take you back to the online registration to finish the account setup process.


STEP 3: Finish the account setup by completing the requested fields. Your email address will already be provided.
Enter your MPWD Customer account # (found on your latest bill statement), your LAST NAME only (do NOT provide full name),
and the password you would like to use. Click on Submit and you are done!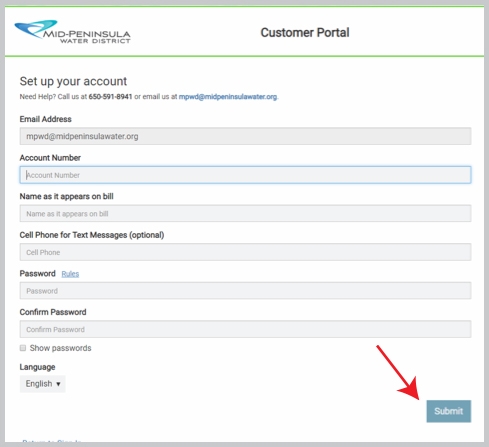 Please note that this account is NOT attached to, or associated with, your online bill pay account in any way.
For any further assistance, please contact mpwd@midpeninsulawater.org or call 650-591-8941