Official Documents & Reports

Since 1929, the MPWD has provided safe, high quality, and reliable water to its customers. We are pleased to report that in 2018 we once again met and surpassed all federal and state water quality regulations. Click here for the 2019 Consumer Confidence Report detailing the information.
Your satisfaction is our top priority. Please contact us with any questions or concerns.
To view a past CCR, select a year below:
The UWMP Act (CA Water Code §§10608-10656) requires MPWD to update its UWMP every 5 years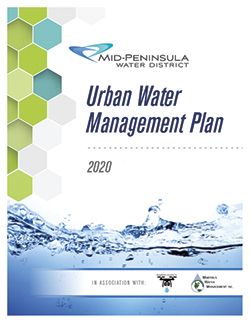 MPWD staff and its consulting team are making progress on the District's 2020 UWMP Urban Water Management Plan (UWMP). The UWMP will be effective for five years through 2025. The plan also includes an updated Water Shortage Contingency Plan (WSCP). Once the draft copy is released, both documents will be made available to the community for review and a virtual public hearing will follow. The UWMP is a state requirement and prepared in response to the UWMP Act. The intent of the UWMP is to provide the Department of Water Resources (DWR) and the general public with information on present and future water supply and demand and to provide an assessment of water resources needed. It also serves the purpose of helping ratepayers better understand our water system, service area, water reliability and contingency planning.
Watch for notice detailing further instructions on how to access, review, comment, and attend a future public hearing on the 2020 UWMP.

---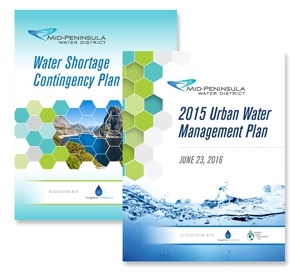 2015 UWMP and WSCP
Mid­-Peninsula Water District (MPWD) adopted and approved the 2015 Urban Water Management Plan and Water Shortage Contingency Plan at the regular Board meeting held on Thursday, June 23, 2016. The UWMP will be effective for five years through 2020. Both plans can be viewed in person at the District Office at 3 Dairy Lane, Belmont, CA 94002, or by downloading as PDFs below.
---
To download the adopted 2015 Urban Water Management Plan and Water Shortage Contingency Plan, click here.
MPWD's Water Conservation Annual Report is a comprehensive accounting of MPWD's annual efforts, including achievements, rebate programs, reporting on the State Water Resources Control Boards (SWRCB) and Bay Area Water Supply and Conservation Agency (BAWSCA), community outreach and education, and MPWD's own water conservation efforts.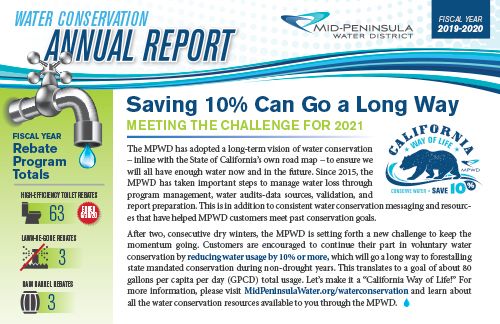 Purpose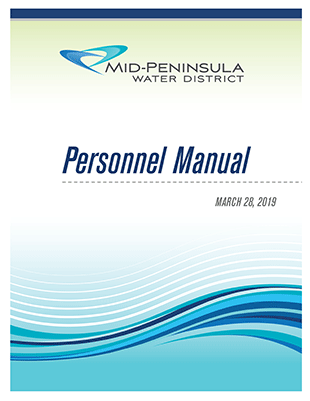 The Mid-Peninsula Water District ("MPWD") is governed by the provisions of the California Water Code ("Water Code") Section 30000 et seq. (and following) sections. Under the Water Code, the MPWD General Manager has authority to employ and discharge an employee at any time, with or without cause.
The language used in the MPWD Personnel Manual is not intended, nor is it to be construed, to constitute a contract between the MPWD and any employee or the public. The MPWD may add, modify, or delete any provision contained in this manual, including those concerning employee benefits, at any time with or without notice.
This Personnel Manual replaces and supersedes all personnel manuals, revisions, and amendments previously adopted by the MPWD.
Download the MPWD Personnel Manual here (PDF)

MPWD Personnel Manual History:
Revision adopted March 28, 2019 (Resolution 2019-08)
Revision adopted October 26, 2017 (Resolution 2017-19)
New manual adopted September 22, 2016 (Resolution 2016-18)
Revision adopted October 22, 2009 (Resolution 2009-09)
Revision adopted June 26, 2008 (Minute Order)
Revision adopted May 23, 2002 (Resolution 2002-11)
Revision adopted April 25, 1996 (Minute Order)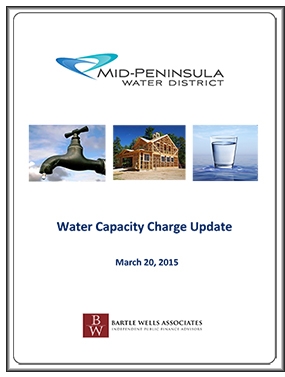 Water Capacity Charges Update
MPWD levies an Existing Facilities Charge on new or expanded connections as a condition of development. This charge was established to recover the cost of capacity in District facilities benefitting new development. The current fee was adopted in 1993 and has not been updated in over 20 years. This report refers to this type of development impact fee as a "capacity charge," in line with terminology used in California Government Code. New connections also pay a Meter Charge to recover the cost of the water meter and a Service Line Charge to pay for the District's costs of installing the service line and making the physical connection to the water main.


Water Rate Update (May 18, 2018)
Download the complete Water Rate Update here (PDF)
---
Water Financial Plan & Rate Study (May 26, 2015)
The study develops long‐term financial projections and calculates new water rates designed to equitably recover the costs of providing service. The recommended rates are designed to meet the District's operational and capital funding needs, comply with legal requirements, and be fair to all customers.
Download the complete Water Financial Plan & Rate Study here (PDF)
---
Water Finance & Rate Update (April 24, 2016)

A summary of key issues (water consumption and MPWD finances) as part of the ongoing MPWD Financial Plan and Rate Study.
Download the complete update here (PDF)
---
Ordinance No. 120

An Ordinance Amending Attachment A Regarding Rates and Charges to the Water Service Ordinance for The Mid-Peninsula Water District.