Water Conservation Overview
Normal Supply Year - Stage 1 Water Alert in Effect Fiscal Year 2021-2022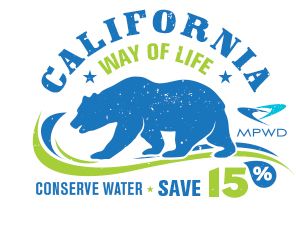 UPDATE: At a news conference on July 8, 2021, Governor Newsom asked all people and businesses in California to reduce their water use by 15% given the growing drought conditions. In addition, the Governor added both San Mateo and Santa Clara Counties to an emergency drought proclamation that now covers 50 of the state's 58 counties.
CALIFORNIA WAY OF LIFE: During the recent statewide drought, Californians responded by applying short-term water conservation measures to meet or exceed the 25% reduction goals necessary to stretch the dwindling water supplies. Today, we are transitioning to a long-term vision of water conservation to ensure we will all have enough water now and in the future. A road map for this new, sustainable "California Way of Life" was enacted by the California legislature and governor requiring local water suppliers – such as MPWD – to calculate use targets with respect to indoor residential water use, outdoor residential water use, dedicated irrigation, and water loss.
MPWD has embraced long-term drought planning by taking steps since 2015 to manage water loss through program management, water audits-data sources, validation, and report preparation. Customers are encouraged to continue their part in voluntary water conservation by reducing outdoor water usage by 15% or more, which will go a long way to forestalling state mandated conservation during non-drought years. MPWD views water conservation as a partnership by actively promoting water conservation awareness and offering easy and effective resources to its customers through:
The MPWD has provided its customers with safe, quality water with friendly, professional service for more than 90 years. We look forward to working together with our customers to ensure continued delivery of our most valuable resource for the next 90 years and beyond.
Please email us with any questions or requests you may have at info@midpeninsulawater.org.
---
Links:


Save Our Water. Click Here
A partnership between the Association of California Water Agencies and the California Department of Water Resources.
---


Bay Area Water Supply & Conservation Agency. Click Here
---


San Francisco Public Utilities. Click Here
For more information on SFPUC's 20 Sustainable Tips to Kick Off the New Decade, Click Here