Advanced Metering Infrastructure (AMI) Meters
Automated Meters Near Completion
Spring 2019
The MPWD continues to work diligently to complete the installation of automated meters across its service area. As of April 2019, MPWD has installed 7,529 automated meters (94% of total), with less than 500 remaining. For MPWD customers with automated meters installed, you now have the opportunity to monitor your water usage on a daily basis. Click here for more information
---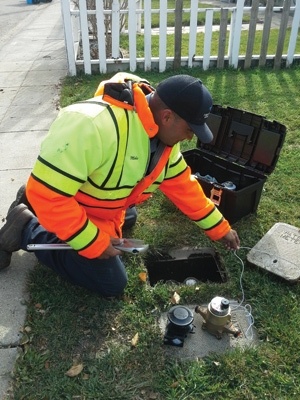 New Meters Catch Leaks Faster
Spring 2014
For the past two years, MPWD has been replacing its old water meters with new automated meters that alert staff to potential water leaks on a daily basis. This is a major help to customers in conserving water and saving money on their water bills. "Now that the water meters are installed throughout the entire system, customers who sign-up for the customer portal can manager their own consumption." notes MPWD Engineering Tech Brent Chester. He also adds that transmissions from the new meters will NOT affect garage door openers because they operate on a completely different frequency. Approximately 2,000 meters were in place at the end of 2013.
---

Automated Meters Making a Difference
Spring 2013
MPWD maintenance crews have installed more than 1,000 new automated meters. And according to Customer Service Representative Misty Malczon, the meters are already helping customers find leaks more quickly. "We've been able to notify several customers that were unaware of leaks within their plumbing because of alerts we've received from the new automated system. This will translate into important cost savings for our customers."
The new technology transmits water consumption data to the District's billing system via a wireless network. When the new system is completely installed, customers will be able to log on to the MPWD website anytime and monitor their water usage on an hourly basis. "So far, customers are excited to have this type of continuous access so they can modify their water use before the end of the billing period and potentially save money, says Brent Chester, MPWD Engineering Technician. Meters are being installed on a zone-by-zone basis with a projected completion date of 2015. For more information, please contact Brent Chester at 650-591-8941.