For Mid-Peninsula Water District (MPWD), it is the responsibility of our staff to serve our customers by obtaining and distributing a safe, reliable, high-quality supply of water for current and future needs in the most cost efficient manner. Our staff is here to serve you!
MPWD Organizational Chart: Download here.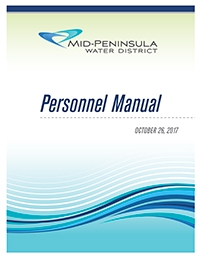 The Mid-Peninsula Water District ("MPWD") is governed by the provisions of the California Water Code ("Water Code") Section 30000 et seq. (and following) sections.
The language used in this Personnel Manual is not intended, nor is it to be construed, to constitute a contract between the MPWD and any employee or the public. The MPWD may add, modify, or delete any provision contained in this manual, including those concerning employee benefits, at any time with or without notice.
This Personnel Manual replaces and supersedes all personnel manuals, revisions, and amendments previously adopted by the MPWD.
Download the MPWD Personnel Manual here

MPWD Personnel Manual History:
Revision adopted October 26, 2017 (Resolution 2017-19)
New manual adopted September 22, 2016 (Resolution 2016-18)
Revision adopted October 22, 2009 (Resolution 2009-09)
Revision adopted June 26, 2008 (Minute Order)
Revision adopted May 23, 2002 (Resolution 2002-11)
Revision adopted April 25, 1996 (Minute Order)
---
MPWD Compensation Plan
MPWD Compensation Plan (Updated September, 27, 2018) (PDF)
---
MPWD Employee Association
2018 Letter Agreement Between the Mid-Peninsula Water District and MPWD Employee Association (PDF)
2014 Letter Agreement Between the Mid-Peninsula Water District and MPWD Employee Association (PDF)