Human Resources
We appreciate your interest in employment with the Mid-Peninsula Water District. All applicants must submit a Mid-Peninsula Water District Application for Employment. It must be typewritten or filled out in blue or black ink.
Once completed, it may be emailed to: mpwdjobs@midpeninsulawater.org
Or mailed/delivered in person to:
Mid-Peninsula Water District
Attn: General Manager
3 Dairy Lane, Belmont, CA 94002
A résumé may be attached but is not accepted in lieu of the application. Once the recruitment closes, the applications will be reviewed and the most qualified candidates will be invited to an oral interview. The candidates not selected will receive an email or letter in the mail.
* This PDF contains form fields if you wish to complete electronically and either submit over email, or, print and submit by mail, fax, or in-person.
---
Employment Opportunities
Two (2) full time positions: Water System Operator
PUBLICATION DATE: Wednesday, June 9, 2021
APPLICATION DEADLINE: OPEN UNTIL FILLED
ORGANIZATION: Mid-Peninsula Water District
SALARY: $5,650 to $7,345/Month • $67,799 to $88,140/Year
CONTACT: Tammy Rudock, General Manager
Telephone: 650-591-8941
Email: mpwdjobs@midpeninsulawater.org
The Mid-Peninsula Water District (MPWD) invites you to pursue a career as a Water System Operator with one of the best public water suppliers within the San Francisco Regional Water System! Operating since 1929 – celebrating 92 years in business – the MPWD prides itself on dedicated service to its customers, cost-effective delivery of water, and its commitment to capital reinvestment in the MPWD system.
Every employee actively participates within and adds value to the MPWD team as they are committed to responsible stewardship of our resources. Plus, we enjoy a positive and supportive work environment!
MPWD offers a competitive total compensation package, including salaries, healthcare benefits, CalPERS pension plan, and holiday/vacation/sick leaves. For more details, please see the MPWD Personnel Manual (PDF)
We are committed to hiring the best qualified candidates and providing opportunities for professional growth, including training and career development.
A completed MPWD employment application (PDF) is required.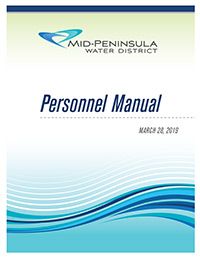 The Mid-Peninsula Water District ("MPWD") is governed by the provisions of the California Water Code ("Water Code") Section 30000 et seq. (and following) sections.
The language used in this Personnel Manual is not intended, nor is it to be construed, to constitute a contract between the MPWD and any employee or the public. The MPWD may add, modify, or delete any provision contained in this manual, including those concerning employee benefits, at any time with or without notice.
This Personnel Manual replaces and supersedes all personnel manuals, revisions, and amendments previously adopted by the MPWD.
Download the MPWD Personnel Manual here.
MPWD Personnel Manual History:
Revision adopted March 28, 2019 (Resolution 2019-08)
Revision adopted October 26, 2017 (Resolution 2017-19)
New manual adopted September 22, 2016 (Resolution 2016-18)
Revision adopted October 22, 2009 (Resolution 2009-09)
Revision adopted June 26, 2008 (Minute Order)
Revision adopted May 23, 2002 (Resolution 2002-11)
Revision adopted April 25, 1996 (Minute Order)
---
MPWD Compensation Plan
MPWD Compensation Plan (Updated September, 27, 2018) (PDF)
---
MPWD Employee Association
2018 Letter Agreement Between the Mid-Peninsula Water District and MPWD Employee Association (PDF)
2014 Letter Agreement Between the Mid-Peninsula Water District and MPWD Employee Association (PDF)