Public Hearing on Proposed Pass-through Water Rate Increases
The Mid-Peninsula Water District (MPWD) is a community-owned and governed public agency that provides water service to Belmont, a portion of San Carlos, and surrounding areas in San Mateo County. MPWD relies entirely on water purchased from the San Francisco Public Utilities Commission (SFPUC) for the community's water supply. This notice is being sent to inform you pursuant to California Government Code 53756 that the MPWD is proposing to pass through anticipated increases by the SFPUC in its wholesale water rates over the next two (2) years to fund its costs of providing water service, pay for wholesale water supplied by the SFPUC, and recover costs of providing service during periods of drought and reduced water sales. It is anticipated, but not yet confirmed, that effective July 1, 2022, the pass-through increase for wholesale water supplied to the MPWD will be 0.65¢ per unit.
The MPWD will hold a public hearing on the proposed pass-through rate adjustments as follows:
Date: Thursday, May 26, 2022
Time: 6:30 p.m.
Place: Virtual Meeting on Zoom

Meeting ID: 883 8484 8004
One tap mobile
+13017158592,,88384848004# US (Washington DC) 13126266799,,88384848004# +US (Chicago)
1-888-788-0099 US Toll-free
Pursuant to California Government Code 53756, MPWD is proposing to adjust its water rates to pass-through future increases or decreases in SFPUC wholesale water rates by the same amount as any variation between the future SFPUC wholesale rates and the baseline SFPUC wholesale rates on which current MPWD rates are based. For example: If the SFPUC increased the MPWD's wholesale water rate by 0.65¢ per unit, the MPWD would be authorized to pass that increase along by increasing its per unit rates by 0.65¢ to ensure MPWD rates continue to recover the cost of wholesale water supply. Under this scenario, the MPWD's current per unit rate for 0-2 units of water is $5.86, which would increase to $6.51 per unit.
For the average MPWD customer (9 units/month), the example pass-through increase would result in charges as seen below...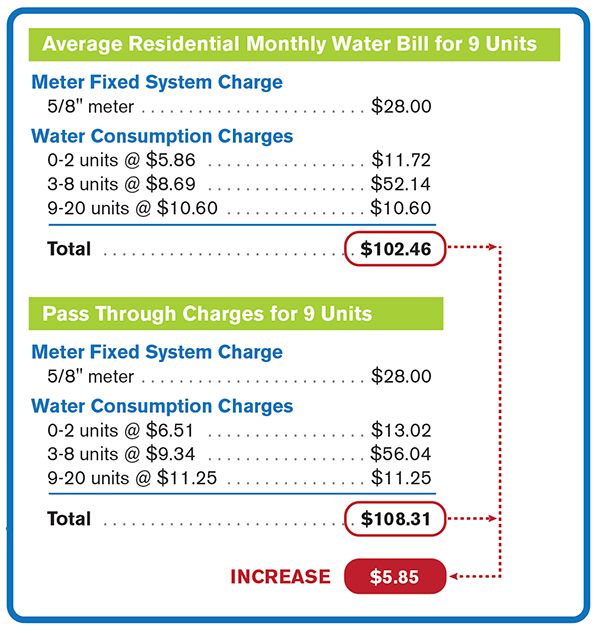 Prior to initiating a pass-through for SFPUC wholesale rates, the MPWD will send notification to all customers at least 30 days prior to implementing any adjustments.
---
WHAT CAN CUSTOMERS DO TO MINIMIZE THE IMPACT OF PASS-THROUGH RATE INCREASES?
To minimize the impact of the pass-through rate increases, customers are encouraged to continue conserving and to further reduce indoor and outdoor water use where possible. As a member of the Bay Area Water Supply and Conservation Agency, the MPWD offers rebates for 1) smart irrigation controllers, 2) drip irrigation hardware, 3) rain barrels, and 4) transitioning turf lawns to drought tolerant landscaping. For more information on any of these rebate programs or other water conservation opportunities, please visit the MPWD website at MidPeninsulaWater.org/rebates

---
HOW TO SUBMIT A WRITTEN PROTEST
Property owners and customers may file written protests against the proposed pass-through provision. Pursuant to California law, protests must be submitted in writing and must:
Identify the affected property or properties, such as by address, Assessor's Parcel Number, or customer account number; and
Include the name and signature of the customer or property owner submitting the protest; and
Indicate opposition to the proposed water rate increases.
Protests submitted by email, facsimile, or other electronic means will not be accepted. One written protest will be counted per parcel. The proposed pass-through provision cannot be adopted if written protests are received from a majority of affected parcels. Written protests can be mailed to:
Mid-Peninsula Water District
Attention: General Manager
Post Office Box 129
Belmont, CA 94002
Or written protests can be submitted to the MPWD at its headquarters located at 3 Dairy Lane in Belmont. All written protests must be submitted prior to the close of the Public Hearing on Thursday, May 26, 2022.
Pursuant to California Government Code Section 53759, there is a 120-day statute of limitations for challenging the water rates set forth in this notice from the date the MPWD Board of Directors adopts the resolution approving the proposed water rates.
DOWNLOAD THE PROP 218 NOTICE MAILER HERE (PDF)