BAWSCA Landscape Classes Going Virtual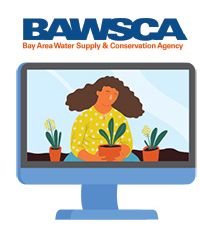 Eleven landcape classes will be made available as online Zoom webinars in May and June on topics such as:
Water-efficient edible gardening;
Native garden design;
Rainwater harvesting;
Landscape maintenance; and
Leak detection.
Classes are available from BAWSCA (Bay Area Water Supply & Conservation Agency) free and open to the public. Registration is required to participate. Please visit the BAWSCA website here to register today! Videos of past landscape classes are also available.
BAWSCA's Landscape Education Classes are designed to introduce homeowners, commercial property managers, landscape service providers, and others to the concepts of water-efficient and sustainable landscaping.