Hands-On Landscape Workshops Going Virtual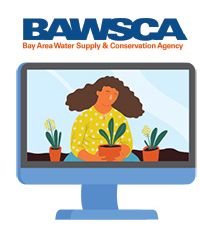 Every year, MPWD offers free Hands-On Workshops to MPWD customers and the local public to promote sustainable landscaping and gardening while reducing water usage. Due to the stay-at-home orders issued by the San Mateo County Health Organization over COVID-19, this year's Hands-On Workshops have gone online as Zoom webinars. Co-sponsored by the Bay Area Water Supply & Conservation Agency (BAWSCA) and member agencies, these Zoom webinars are made available free and open to the public through the BAWSCA website HERE. Registration is required to participate.
The Spring and Fall 2020 Workshop Series feature topics such as: water-efficient edible gardening, native garden design, rainwater harvesting, landscape maintenance, leak detection, and much more. Videos of past landscape classes are available on the BAWSCA website to view 24/7.