MPWD's Poster Contest Draws the Best!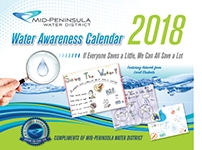 On Thursday, January 25, 2018, MPWD hosted the twelve winners of its Annual Water Awareness Calendar Contest. Each year, the District creates a 12-month wall calendar (click link for flipbook) to promote water conservation that features winning student entries. As part of it call for entries, the District asked 3rd, 4th, and 5th grade students from schools in its service community to incorporate the expression, "If Everyone Saves a Little, We Can All Save a Lot!" into their poster artwork. 128 poster entries were received from five schools: Belmont Oaks Academy, Immaculate Heart of Mary School, Cipriani Elementary School, Nesbit Elementary School, and San Carlos Charter Learning Center (SCCLC). SCCLC 2nd graders also submitted posters that, while not eligible for contest consideration, were included in the calendar. The twelve winners were invited to the January Board of Directors Meeting and presented participation certificates, while gifts cards were presented to the grand prize winner and two runner ups. MPWD also recognized Mrs. Butts, who teaches 3rd grade at Cipriani School, as the teacher with the most student participation.
"The imagination and creativity of Belmont's young students are not only impressive, but it is also a guarantee for future responsible water users in our water district," announced MPWD Board Director, Louis Vella, during the award presentations.
MPWD Water Awareness Calendars are available to customers, schools, businesses, and other community groups within MPWD's service territory. For more information on the Water Awareness Calendar Contest, please contact Jeanette Kalabolas at 650.591.8941 or visit MidPeninsulaWater.org/schools
Calendar Contest Winners Snapshots!
Photography by Israel Soler. All rights reserved.