Now Open! MPWD's New Office Location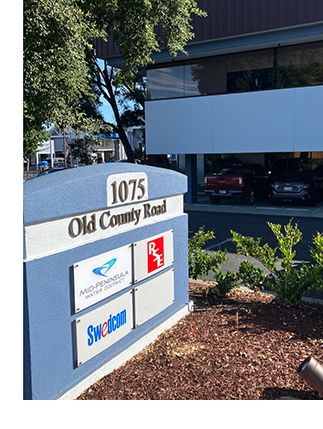 The Mid-Peninsula Water District has called our building at 3 Dairy Lane "home" for more than 24 years. Despite our resourceful staff's best attempts to stop the floodwaters, our Dairy Lane home was inundated with water during the New Year's Eve storms and underwent significant damage, particularly to our administrative offices. Immediately following the storms, MPWD staff were able to regroup and open for customer service by phone and email immediately following the holiday weekend, without skipping a beat. Our staff worked tirelessly to ensure that despite this setback the delivery of high quality water was not interrupted. While this was a challenging period for the District, we take great pride in our resilience and ability to maintain the great service we provide to our community.
With some help from our partner organizations and supportive community, we were able to find and move into our temporary offices, which are now open to the public! MPWD will soon be dedicating a portion of our website toward emergency preparedness for situations such as earthquakes, floods, and extreme weather events. This unexpected event further underscores how important emergency preparedness and planning is for everyone.
The MPWD invites customers to stop by the new office at 1075 Old County Road, Suite A in Belmont to pay their monthly water bill or to ask questions you may have for the District. Thank you to our customers and community for support during our turbulent start to 2023!